President-Elect, Charin Sturgis
Hello PASHRM Members,
I am pleased to announce and introduce our 2020-2021 PASHRM President-Elect, Charin Sturgis. Charin is excited to start in this role, and we are thrilled to have her join us as the newest member of the PASHRM board.
Please help me welcome Charin!
Warm Regards,
Kacy Calder
PASHRM President 2021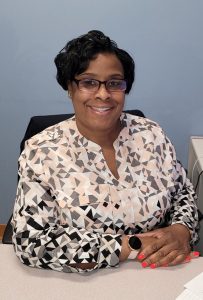 A message from Charin
I am honored to be the 2021 PASHRM President-Elect. I am excited to work alongside Kacy and support her in her role as the new PASHRM President. I began my career working in Patient Access and eventually held roles such as a Practice Administrator at the Hospital of the University of Pennsylvania and Corporate Director Admissions & Marketing for a group of skilled nursing facilities. In 2010, I accepted the role of Assistant Hospital Director/ Evening Administrator for Temple University Hospital. This role involved conducting investigations on patient events and routinely reviewing incident reports to determine incidents verses serious events that met state reporting requirements. The leaders of the organization recognized the impact the role had on clinical and non-clinical areas and decided to morph the role into an Evening Risk Manager in July 2011. The Evening Risk Manager job duties mirrored that of a Clinical Risk Manager during the day; investigating incident reports, facilitating RCA's, PA-PSRS reporting, etc. In June 2017, I transitioned to the role of Ambulatory Risk Manager, where in three years I designed and implemented an Ambulatory Risk Management Program for Temple University Physicians and Temple Physicians Inc. In 2020, I was promoted to Senior Risk Manager with responsibility for both the inpatient and outpatient areas. I obtained my MHA from University of Phoenix.
I look forward to networking with the PASHRM professionals soon and building sustainable relationships with risk management colleagues.
With gratitude,
Charin Sturgis
PASHRM President-Elect 2021